Mahnke Auto Body Arvada
Mahnke Auto Body Arvada opened its doors on April 1st, 1975. The significance of the date has never been lost on the Mahnke family. Even now, forty years later, they share an extraordinary ability to use humor to put difficulties into perspective. Located in the light industrial area in south east Arvada, the property has been a perfect location to serve Arvada, Westminster, Golden, and Denver for over forty years.
Back in 1975, Gary and Judy Mahnke may not have thought twice that they were opening an auto body shop without name recognition, or customer base, in the midst of a lingering recession, and when analog technology was the only option. Their entrepreneurial spirits, combined with sound ethics and natural business acumen have built the company from the ground up. Judy Mahnke, however, prefers to highlight the contributions of many valued Mahnke employees as key determinants of the shop's success; some have stayed with Mahnke for decades.
As youngsters, Gary and Judy's four children; Torie, Joshua, Sam, and Beth were engaged in every nuance of the collision repair industry. As a result of this commitment to the business, one of company's greatest strengths is the ability to anticipate and prepare for the next change, administrative or technological. The Mahnke shops are able to adapt quickly, consistently maintaining their position at the cutting edge. The family supports and encourages one another. Occasionally, the standards the family sets seem impossibly high, but the family perseveres. They expect to succeed and this self-confidence creates a positive influence on every employee in the organization. From the owner, Gary Mahnke, to the newest detailer in the shop, everyone is encouraged to strive for continual improvement. The company provides ongoing training, positive feedback, and a safe place to make mistakes, creating a culture of acceptance of personal responsibility at every level in the business.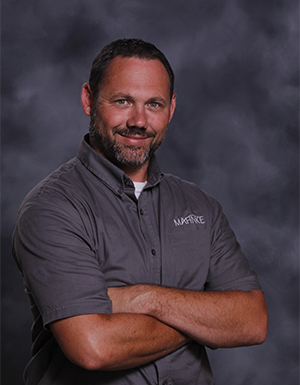 Tony Sewolt
General Manager
Mahnke Auto Body
Arvada
Tony began his career at Mahnke Arvada, in 1998. Over the last seventeen years with Mahnke, Tony has worked as a Collision Repair Tech, Lead Collision Repair Tech, Parts Manager, Production Manager, and Assistant Manager. Tony has earned the industry recognized I-CAR Platinum ProLevel3 designation, which is the highest level of training offered to Collision Technicians by the Inter-Industry Conference on Auto Collision Repair.
Throughout Tony's childhood he helped his cousins and uncles work on their first generation Camaros. During the summers as a teenager, he worked for a local truck painting company. By the time he graduated from high school, Tony had also earned his Collision Technician and Welding Certifications at Warren Tech through a cooperative program with Red Rocks Community College. Between, working and going to school, Tony excelled in high school sports, including football, soccer, and wrestling. Like a good coach, he is deeply committed to helping others perfect their skills and advance their careers.
Tony believes in and supports the Mahnke family's commitment to "doing one's best, every time." The years of dedication Tony has given Mahnke Auto Body have brought him great success. In April of 2015, Tony Sewolt accepted the position of General Manager of Mahnke Auto Body Arvada. Tony and his wife Winde, have four children; son Kyler, daughters, Cadence and Linzie, and son Anthony.